When it comes to hunting in the Midwest, there are many great options. Each with its own uniqueness that makes it stand out from one another. That is exactly the case when it comes to hunting in Michigan. And there is no better way to enjoy a hunting trip than using a privately owned hunting lease.
Why a Hunting Lease
One of the great debates in the hunting industry is whether you should hunt on public land or if a private lease is the better alternative. The arguments for using public start and end at people thinking it is the "right" way to hunt. Past that, the benefits of private hunting leases far outweigh that of public land hunting. With a few of those reasons being
Lack of competition: Possibly the most obvious and best reason to choose hunting on private land over public is the sheer lack of competition you face. High pressured hunting areas are leaps behind private when it comes to the number of animals versus the number of people hunting for those animals. Since the private landowners can determine who can use their land for hunting or not, it ensures that the land will not be overcrowded.
Buying a hunting lease also helps put money in the landowner's pocket. This, in turn, should mean that the landowner will be putting more money back into land conservation and land management.
Why a Michigan Hunting Lease
Now that it has been established that purchasing a hunting lease from a qualified company is the best step, you have to think about where do you want this lease?
If geographically you are in or around Michigan, that makes sense to choose Michigan. However, even if you are not around Michigan, some of its features may be enough to convince you to make the trip.
What helps to make Michigan stand out in terms of high-quality hunting would have to be its deer hunting. With almost a million tags being bought and sold annually, it shows that deer hunting in Michigan is a way of life. It goes past simply HAVING deer to hunt; Michigan is committed as a state to keeping deer hunting strong within its borders.
If you ever have any interest in BUYING land in Michigan, Our sister company, Base Camp Country Real Estate, often has land available to purchase. Available properties here.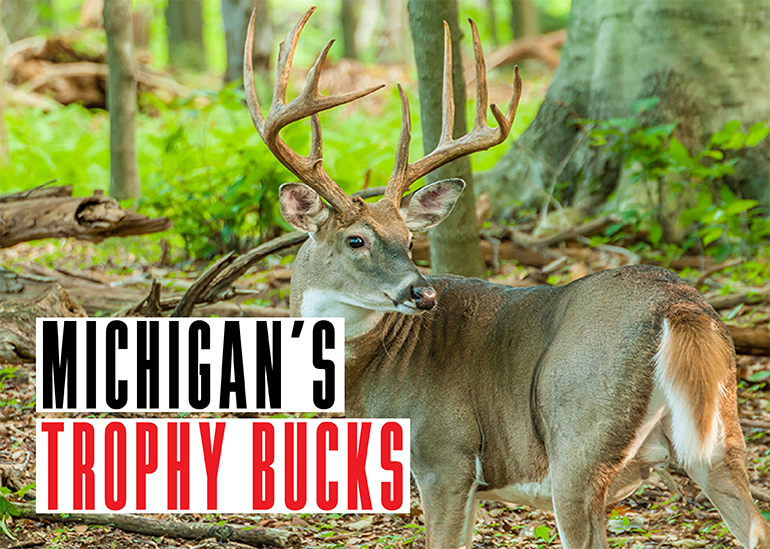 Where to Hunt: North
One of the best parts about Michigan, in general, is its biodiversity. From the UP to lake Michigan, the state's terrain can very heavily. The same can be said for its deer populations, with 4 distinct sections in Michigan for deer hunting. All with their own exclusive features.
Upper Peninsula: If you are searching for a true wilderness experience, then the UP might be for you. With tens of thousands of miles of heavily wooded forests, you can easily find yourself miles away from civilization. Which helps contribute to its lower hunting pressure. The amount of deer is not particularly high, but the sheer size of the land gives the hunter plenty of room to explore.
Northern Peninsula: If you find yourself just south of Mackinaw Bridge, you have made it to what many consider to be the best hunting in the state. Marked with hundreds of deer camps, hunters from coast to coast make the journey to this part of the state. Hoping to land a massive buck in a beautiful setting. Hunting pressure is more abundant here, making the option of private hunting leases that much sweeter.
Where to Hunt: South
Central Michigan: Unlike the land to the north, Central Michigan has far more agricultural land. Which means more open fields, and therefore more deer. Combine that with the heavy timber you find in Michigan, and you have a quality spot for deer. Public land is slightly harder to find in this area. You will also find an increase in landowner co-operatives. A process where landowners openly attempt to have a stronghold on the management of deer. In an effort to improve things like age structure and sex ratio.
Southern Michigan: Besides the bonus of it being the most accessible bit of hunting land in Michigan. It is also widely considered a farm country in Michigan. As any hunter knows, where there are farms, there are monster bucks. The higher nutrition levels of the farms play directly into the size of bucks, which is why you can often find some of Michigan's biggest deer in the south. The public land in this area is few and far between, with most of the land is privately owned, making it a prime spot for a Michigan Hunting Lease.

Is a Michigan Hunting Lease for You?
You would be hard-pressed to find a true hunter who would not want to hunt in this beautiful state, from the vast wilderness of the UP, down through the farmlands. Michigan provides multiple different challenges based on the area you plan on hunting. Making it a great destination for any hunter with any interests.
Skip the public hunting land pressure and lock yourself in a hunting lease. Almost guaranteeing you a great time hunting in one of the most sought-after areas in the Midwest.
If you are looking for current Michigan hunting leases, Base Camp Leasing has multiply available right now. We are constantly updating our site, so if you don't see your dream lease, wait!